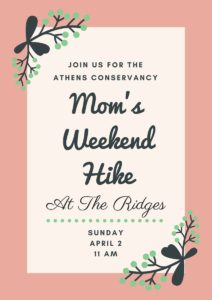 Welcome OU Moms!  Come join us on Sunday, April 2 for either a 1.5 mile or 2.5 mile hike at the Ridges for Mom's Weekend.  Both hikes depart at 11:00 AM from the parking lot located on Dairy Lane just past the Dairy Barn Arts Center.
From West Green, go south on Richland Ave., across the Hocking River Bridge, straight through the roundabout and turn at the first right onto Dairy Lane (before OU Inn).  Take Dairy Lane about 1/2 mile (you will go past the Dairy Barn) to the top of the hill.  Turn right at the top of the hill into the parking lot.
We hope to see you there!